Rake: Series 3
Adrienne returns as Missy in Series 3 of hit ABCTV drama series Rake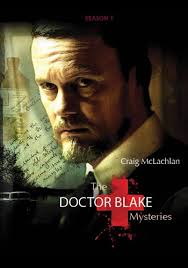 The Doctor Blake Mysteries: Series 3
In 2015, Series 3 of hit crime series The Doctor Blake Mysteries premiered. Set in regional Victoria in the late 1950's, Adrienne stars as "Catherine" in episode 7.
It's A Date: Series 2
In 2014 the ABC TV comedy series It's A Date returned for it's second season, with Adrienne starring as 'Tess'.
House Husbands
Adrienne guest starred as 'Layla' in Season 3 of popular TV series House Husbands in 2014.
Secrets & Lies
In 2014 Adrienne starred as 'Jess' in the critically acclaimed TV mini-series Secrets & Lies.
Mr & Mrs Murder: Network Ten
In 2013 Adrienne guest starred as 'Ariel' in comedy murder mystery TV series Mr & Mrs Murder
Rake: Series 2
Rake returns with it's second series in 2012, and Adrienne returns as "Missy"
Rake: Series 1
Rake debuts in 2010 for ABC TV, starring Adrienne as "Missy"
The Reef
Adrienne stars as 'Suzie' in the Australian thriller feature film, released in 2010
Ruben Guthrie
In 2009 Adrienne played 'Zoya' in the sold-out theatre production of Ruben Guthrie by Brendan Cowell at Sydney's Company B Belvoir theatre.
The Clinic
Adrienne appeared as the mysterious and terrifying 'Jane Doe' in Australian feature film The Clinic in 2010
Sea Patrol
Adrienne guest starred as 'LCDR Cynthia Luxton' in Australian Navy TV series Sea Patrol in 2009
Home & Away
Adrienne appeared as 'Natalie Franklin' in a guest arc during 2009 in the long-running Network 7 series.
Knowing
In 2009 Adrienne appeared as 'Alison' in the feature film starring Nicolas Cage 'Knowing'
Out Of The Blue
In 2008 Adrienne starred in a recurring role as Detective Christine Taylor in Australian series Out of The Blue
Candy
In 2006 Adrienne appeared in the Heath Ledger feature film Candy.
HeadLand
Adrienne starred as 'Elly' in the 7 Network serial Headland from 2005-2006.
All Saints
Adrienne's first ever TV appearance was as nurse 'Sophia' in a guest arc on the popular 7 Network medical series All Saints in 2004.